On The Water with Otters
July 10 @ 7:00 am

-

7:00 pm
On the Water with Otters
While it isn't yet safe enough for us to hit the big destinations or take groups around, we're starting back with the ultimate social distance day adventure opportunity for you!
We are going kayaking among sea otters and sea lions in beautiful Morro Bay.
It's about a mile or two worth of kayaking.  You don't need to be a serious kayaker for this trip. While we aren't guaranteeing any sightings, chances are good that there will be some spectacular wildlife there.
We'll meet there (or you can join our caravan!).
How are we making it safer?
1- We're wearing masks when we're together.
2- We're driving in separate cars.
3- We'll be in kayaks, at least 6 feet apart.
4- We'll have extra masks, hand sanitizer and whatever else we need to be safe in the same area.
5- We'll be bringing our own picnic lunches and snacks, (pack in/pack out).
6- We'll be outside!
Friday, July 10, 7am-7pm
(leave Los Angeles at 7am, return at 7pm)
$100/per person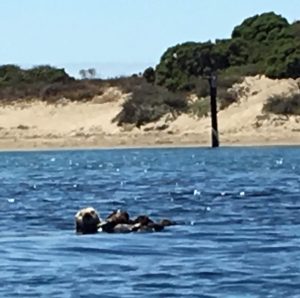 Meeting details provided upon RSVP.
This trip is limited to 12 people, so make your reservation as soon as possible.
Please RSVP to info@terangaranch.org 
(Or call 818-305-4377)