Batty for Bats
October 1, 2022 @ 5:30 pm

-

7:00 pm

Free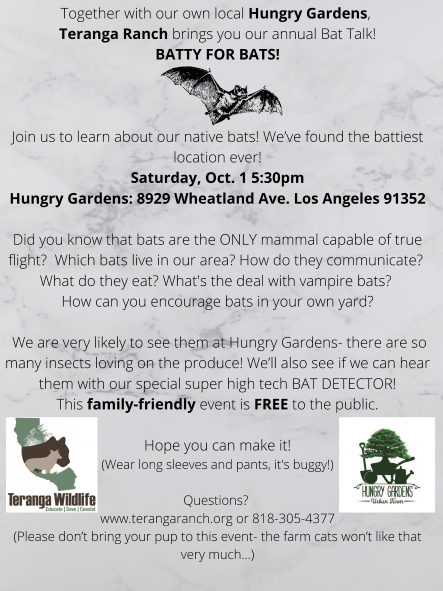 Together with our own local Hungry Gardens,
Teranga Ranch brings you our annual Bat Talk!
BATTY FOR BATS!
Join us to learn about our native bats! We've found the battiest location ever!
Saturday, Oct. 1 5:30pm
Hungry Gardens: 8929 Wheatland Ave. Los Angeles 91352
Did you know that bats are the ONLY mammal capable of true flight? Which bats live in our area? How do they communicate?
What do they eat? What's the deal with vampire bats?
How can you encourage bats in your own yard?
We are very likely to see them at Hungry Gardens- there are so many insects loving on the produce! We'll also see if we can hear them with our special super high tech BAT DETECTOR!
This family-friendly event is FREE to the public.
Hope you can make it!
(Wear long sleeves and pants, it's buggy!)
Bring a chair!
Questions?
www.terangaranch.org or 818-305-4377
(Please don't bring your pup to this event- the farm cats won't like that very much…)